1890-1891

South Africa, Tasmania, Australia, New Zealand
January 24th, 1891
On board S.S. "Arana"
My Beloved Angee,
We left Capetown last Tuesday afternoon the 20th inst. and excepting the Etruria our ship is the largest and most comfortable I have ever voyaged in. My cabin which I am alone in is larger than many of the bed rooms recently occupied in South Africa and our table is very good, the meat being brought from England and the fruit being now in perfection at the Cape a good stock of that was taken in during the steamer's short stay there. One dear brother came to the hotel to see me off and I was thankful on the Lord's day evening in spite of all the ruin to find myself with a few whose prayers to God on my behalf went home to my heart and so much the more because I never expected such a company. There are not many passengers on board – only about 25 in the saloon and I was the only addition to this company at Capetown. The ship's tonnage is about five thousand tons and she has accommodation for at least 100 sailors and passengers. It is the same ship dear Mr. Jull[?] and his family came out in and I remember his speaking of the great kindness shown to him by the Captain. Mr Jull came second class and on speaking to the Captain I found that he remembered him and his family very well and seemed glad to hear of them. Through the Lord's goodness I have found one dear Xtian sitting opposite to me at the Table – he is a sheep farmer near Melbourne but very bright in his soul and manifests a beautiful meek, lowly and Christ-like spirit. It is a mutual comfort and that of God thus to find each other and one that loves the word of God. We have this far had fine weather but our temperature has gone down from about 80 at Cape Town to 56 so that thick clothing is very acceptable. There is a Church of Scotland clergyman called Jones in the second class with whom I have had some conversation. He is returning to his station at Fiji. It occurred to me that he might know Mr Arundel and on asking if he had ever met him, I found that he was most intimate with him and had stayed with Mr Jones when on a visit to those Islands. I was not surprised to hear of the esteem in which he was held and the clergyman owned that he believed the witness of his godly life did more good than 12 clergymen could do. It is just possible that Mr Arundel may be in Auckland, so I may have the joy of meeting him once more.
I looked over my business in South Africa yesterday – you remember how dear Eliza used to count up the number of tins sold in a day in London – the quantity has increased a little since then. I will give you the total number sold now only you must remember that our goods were hardly known when I first landed in Cape Town. The totals were 28d tins 2,310 – 14d tin 467 – 9d tins 4,721 – 1 & 2 tins 7,334 – enamelled tins 7592 – altogether 22,424 tins – not bad is it, for a beginning and fresh indents are going home by every mail now, so that the trade will I doubt not be a satisfactory one.
If Harry reads this letter tell him not to speak of this to any on his travels. My heart goes up to God with thanksgiving for His goodness in all this. We have nothing that we have not received therefore to Him be Glory.
Jan 31st.
The first month of the new year has just passed away and it does seem as if the years roll along more rapidly as one advances on the journey of life. The voyage has continued pretty much as according to the character of previous ones except that the weather has been bitterly cold for the past week and we have just encountered a strong gale, but as we were running before it our progress has not been much impeded. The rolling of the ship however has been terrible sometimes one side of the deck flush with the sea which means holding on with both hands and every movable thing sent flying. We have had nice readings in my cabin every morning and I get three friends in – one a clergyman with the Church of England a very dear man and a relative of Lord Radstock's – Mr Mackie my first acquaintance on board and another young man – the clergyman calls my cabin "Elim" – he is one of the brightest Christian ministers I have ever met – heart full of trust and well taught in the word. Last Lord's day evening I preached in the saloon[?] and had the bulk of the passengers to listen. The Lord helped me and some have spoken of blessing.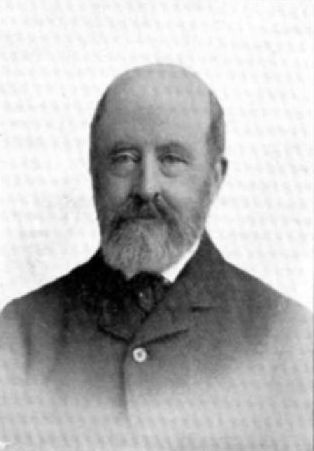 William Shepherd Allen (1831-1915)
[Image source: Wikipedia]

A gentleman called Allen[1] with his family seemed much interested and he came afterward and spoke very encouragingly and said how much he had enjoyed it and was thankful that I had spoken such plain words – he has represented Aston Under Lyne in Parliament for 21 years and was a great friend of the late John Brightswater [and] is a very bright Christian and of some note among Wesleyans. It has been a great cheer to meet him and the other believers and one recognises far more simplicity and godliness among these we have got to despise of late years than is found among those who are boasting of high truth and the ground they occupy. The Lord keeps us humble and lowly, we know how He values this.
Hobart, Tasmania, Lord's day Feb. 8th/91
The "Arana" dropped anchor at this place last evening about 6.30 – the waters were indeed peaceful and the scenery around very grand and summer weather to complete the picture. I thought it was one of the loveliest places I had ever seen in the world. After the one gale we passed through our voyage was fine as far as the weather is concerned and in the Lord's interests has been one of the most interesting I have ever had. The little company in my cabin soon increased and was filled every morning at 9.30 with a few who loved the word of the Lord which liveth and abideth for ever. At Cape Town there were two young men belonging to the Salvation Army embarked in the same boat with me, who are on a tour of inspection around the world – one is a "Colonel" and the other is "aide-de-camp". They appeared to enjoy the meetings I had in the saloon and on the deck and the "Colonel's" companion called Plant is as bright as a new shilling and his heart filled with Christ. He has been to all the readings and acknowledges frankly that what he has heard is all new to him – we have been reading through the Galatians and Matthew XIII. The dear fellow's prayers were very sweet full of thanksgiving and praise for the goodness of God in showing him what he did not know before and all magnifying His grace in the gospel. The clergyman too seems completely delivered in his soul – owns it indeed frankly – and that he never before saw so clearly the difference between law and grace. There has also been a dear looking young fellow who has been also much interested and the few remarks he now [continuation letter begins here] made showed that he had some acquaintance with the truth. One morning he was the last to go out of my cabin and I asked him as to who he was connected with and found to my joy that both he and his wife were breaking bread with us and had both taken a place with others in London in refusing Mr Raven's doctrines. This was an unexpected joy. He is only young in the way and owns that he has had more feeding for his soul on board the Arana than he has had for a long time amid the din and strife in London. His father lives in Auckland New Zealand and the son with his new wife are going out to settle there too. Singularly enough the wife before she was married was travelling with a family who visited Ilfracombe some years ago, who occupied a house in the Torr's Park in which a Mr Petter lived and she thought I must belong to the same family because she noticed some of Brethren's books in a case which she greatly desired to read but the case being locked she could not.
One morning I was walking around the steerage part of the ship and spoke to a young man and his wife I had noticed at the preachings, so sat down and had a talk with them. His speech soon convinced me that he was from Cornwall and on asking him from what part you may judge of my surprise to hear from Wadebridge and he is called Lightfoot and I think his father is a carpenter there. I enquired about the wife and found she was from Mevagissey and remembered my preaching outside the grocer's shop on a winter's evening some year's ago. They both appeared to have found blessing on board during the preachings and I hear from dear Mr Allen previously....
[page missing here]
....portion of the room, so that we might have a little conversation. It appears the open brethren are divided here and this is a section of them – he asked me to sit with them, but I kept my seat behind. The meeting seemed a very happy one and the Lord was before their souls but it was not exactly the pattern I have known. At the close of it many of them came and conversed with me and knew all about Mr Raven's teaching and the sorrow it had brought in. I ascertained from them that there were a very few in Hobart meeting with my former company and that the leading brother among them was teaching Mr Raven's doctrines. However I shall call to see them. In walking this morning I saw P.O. Lysh at his warehouse and I hear say that he has let his house for the season and is now in lodgings in Hobart, so I dare say shall see him tomorrow. The mail for England closes this evening, so I have had to write rather hurriedly this afternoon, as I do not want to miss this mail and keep you one week longer without a letter. I should liked to have written more but you must accept the will for the deed. Trust you are all keeping well – thro' mercy I am in good health and still proving "How Good is the God we adore." Now with much love to dear Arundel and Harry and Emma and all the darling children and a double portion for your dear self believe me my dearly beloved wife.
Your very affectionate Husband
Kind love to Eunice and Eliza and all dear friends at Barnstaple and Infracombe.
Feb 14 is very near and I know I will be remembered with worshipping and thankful hearts by us both.
Footnote
[1] William Shepherd Allen (1831-1915) – see further here.